The origins of the dance
Posted on Monday, April 18, 2011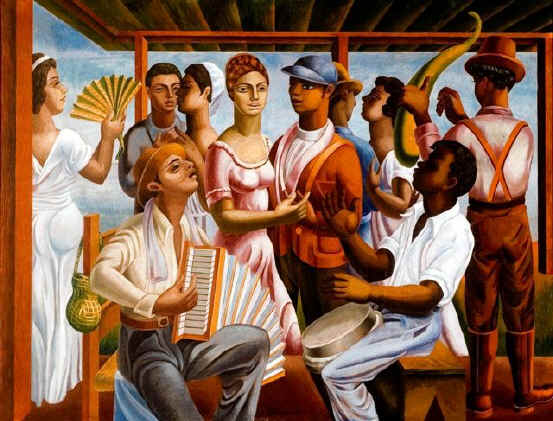 The inspiration behind my clarinet quintet
Gumboots
was the story of the South African miners whose ebullient gumboot dancing emerged from the bleak conditions of mining under apartheid. I suspect there may be many other similar stories of something good and life-affirming emerging out of something much darker.
At a recent performance of Gumboots by the great musical asset of the North East of England,
Ensemble 360
I got talking to a lady who had come specially to hear the piece, (having youtube'd it beforehand!) and she told me that the story of gumboot dancing sounded similar to one she had been told about in her salsa classes. From what I can see online, she may have been talking about the Merengue, whose shuffling steps are not hard to imagine originating in chained feet.
It is hard to be sure though, perhaps in this case it's just a modern myth - another popular story of the origin of the dance claims that a great hero was wounded in the leg during one of the many revolutions in the Dominican Republic. A party of villagers welcomed him home with a victory celebration and, out of sympathy, everyone dancing felt obliged to limp and drag one foot.
Either way, it's nice to sense these dances stretching back over the decades and centuries, to feel the continuity, and to sense the passion, resilience and spirit of people who dance away their troubles.
COMMENTS
Archive
2022:
Jan
Feb
Mar
Apr
May
Jun
Jul
Aug
Sep
Oct
Nov
Dec
2021:
Jan
Feb
Mar
Apr
May
Jun
Jul
Aug
Sep
Oct
Nov
Dec
2020:
Jan
Feb
Mar
Apr
May
Jun
Jul
Aug
Sep
Oct
Nov
Dec
2019:
Jan
Feb
Mar
Apr
May
Jun
Jul
Aug
Sep
Oct
Nov
Dec
2018:
Jan
Feb
Mar
Apr
May
Jun
Jul
Aug
Sep
Oct
Nov
Dec
2017:
Jan
Feb
Mar
Apr
May
Jun
Jul
Aug
Sep
Oct
Nov
Dec
2016:
Jan
Feb
Mar
Apr
May
Jun
Jul
Aug
Sep
Oct
Nov
Dec
2015:
Jan
Feb
Mar
Apr
May
Jun
Jul
Aug
Sep
Oct
Nov
Dec
2014:
Jan
Feb
Mar
Apr
May
Jun
Jul
Aug
Sep
Oct
Nov
Dec
2013:
Jan
Feb
Mar
Apr
May
Jun
Jul
Aug
Sep
Oct
Nov
Dec
2012:
Jan
Feb
Mar
Apr
May
Jun
Jul
Aug
Sep
Oct
Nov
Dec
2011:
Jan
Feb
Mar
Apr
May
Jun
Jul
Aug
Sep
Oct
Nov
Dec
2010:
Jan
Feb
Mar
Apr
May
Jun
Jul
Aug
Sep
Oct
Nov
Dec
2009:
Jan
Feb
Mar
Apr
May
Jun
Jul
Aug
Sep
Oct
Nov
Dec
2008:
Jan
Feb
Mar
Apr
May
Jun
Jul
Aug
Sep
Oct
Nov
Dec
2007:
Jan
Feb
Mar
Apr
May
Jun
Jul
Aug
Sep
Oct
Nov
Dec
2006:
Jan
Feb
Mar
Apr
May
Jun
Jul
Aug
Sep
Oct
Nov
Dec